Philosophy Shower Gel
Philosophy shower gel - It has been proven that smell can evoke certain moods or feelings.
That is why aromatherapy is so huge around the globe. When I need to WAKE UP with a morning shower, I make sure to pick a shower gel that has a very strong usually citrus/fruity scent. It's completely different if my main goal is to WIND DOWN! My evening bath consist of soothing scents such as lavender. So, needless to say, I LOVE the shower gels that Philosophy offers. There is a scent for any occasion and any mood.
If I am getting ready for a night out on the town, I grab their Melon Daiquiri shower gel. For some reason it always makes me feel sexy! Or, maybe you feel like you need a little TLC or comfort? Grab the Baby Grace bath and shower gel. It's gentle and does not have a heavy scent to it at all.
Some say I'm a shower gel fanatic, but I believe it's one more way to pamper ourselves and embrace our femininity. The following are my person 3 favorite Philosophy shower gels. I would recommend them to anyone!
Cinnamon Buns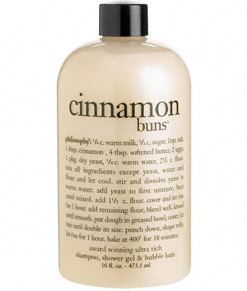 The Cinnamon Buns shower gel
is a three in one shampoo, shower gel, and bubble bath. So, you would tend to think that the shampoo part of the gel would not be very good? Well, its great! I love the way it makes my hair feel and it lathers really well. The cinnamon bun smell is incredible but sometimes can make me hungry first thing in the morning. Although, it does give me the ability to indulge in something without the extra unwanted calories. :) Also, men don't mind the smell of this particular scent that Philosophy has to offer.

I actually think that men secretly enjoy it! My husband goes through our bottle of Cinnamon Buns faster than any other shower gel. There are two main reason why I prefer Philosophy shower gel. 1. You won't leave the house smelling like a cinnamon bun and 2. It is so gentle and is great for sensitive skin.
Ingredients: water, tea lauryl sulfate, cocoamidopropyl betaine, glycol stearate, sodium chloride, tea-peg 3 cocamide sulfate, disodium laureth sulfosuccinate, glycerin, peg-150, tocopheryl aceatate, polyquaternim-7, fragrance, citric acid, methylchloro-isothiazolinone, methylisothiazolinone
Raspberry Sorbet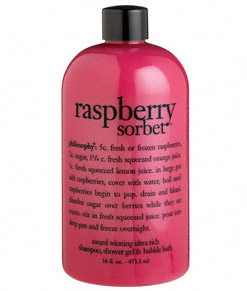 The Raspberry Sorbet
is also a 3 in 1 bath gel. It too moisturizes all while conditioning your hair and skin. It really is so gentle and removes unwanted impurities and oil. Though the smell does not linger on your skin all day, I definitely would not mind smelling like this shower gel throughout my day. It has a really like raspberry smell.

If you prefer a strong fruity smell then this is not the shower gel for you! You may be disappointed when you receive your vibrant pink bottle and expect to be hit with a flood of raspberries. I just so happen to like a more subtle smell when it comes to fruit.
Ingredients: water (aqua), tea lauryl sulfate, cocamidopropyl betaine, glycol stearate, sodium chloride, tea-peg-3 cocamide sulfate, disodium laureth sulfosuccinate, glycerin, peg-150 distearate, tocopheryl acetate, polyquaternium-7, fragrance, citric acid, methylchloroisothiazolinone, glyceryl polymethacrylate, propylene glycol, methylisothiazolinone, fd &c yellow no. 5, d &c red no. 33.
Amazing Grace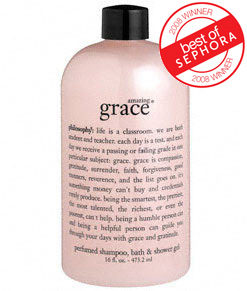 Of course the Amazing Grace shower gel
is the 2008 winner of the best of Sephora. It was also featured on a 2005 episode of Oprah's Favorite Things! If I had to pick one of the many Philosophy shower gels this would be it! Well, wait a minute...Cinnamon Buns is dang good too! :) The Amazing Grace is also a three in one gel that has milk proteins. Milk proteins nourish and calm sensitive skin. That is a big problem in our household, so milk proteins come in handy.

I usually follow the shower gel with an application of their Amazing Grace lotion and fragrance. It's nice and light and last all day. I always receive compliments when I use Amazing Grace. This is a great gift for the girly girl in your life or for the person who has everything. They will remember you every time they love taking a shower with their Amazing Grace Philosophy shower gel!
Ingredients: water, sodium laureth sulfate, lauryl betaine, polysorbate 20, fragrance, peg-18 glyceryl oleate/cocoate, disodium laureth sulfosuccinate, glycol distearate, steareth-4, milkamidopropyl amine oxide, sodium milkamidopropyl pg-dimonium chloride phosphate, isostearamidopropyl morpholine lactate, peg-7 glyceryl cocoate, peg-6 caprylic/capric glycerides, lithospermum officinale root extract, panthenyl ethyl ether, oat extract, hydrolyzed silk, beta carotene, ascorbyl palmitate, tocophersolan, peg-4, caprylic/capric triglycerides, tetrasodium edta, methylchloroisothiazolinone, methylisothiazolinone, red 4 (ci 14700), red 33 (ci 17200)