Cindy Crawford Skin Care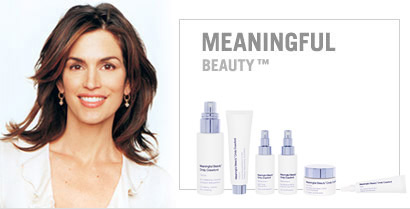 Cindy Crawford Skin Care - Cindy Crawford Meaningful Beauty
If Cindy Crawford wasn't a celebrity, you would never be able to guess by looking at her that she is 43 years old.
She looks almost exactly the same as she did 20 years ago. It's almost as if she has found the mythical fountain of youth. This really isn't too far from the truth, but instead of magic water Cindy Crawford uses Meaningful Beauty products to stay younger looking.
While we are young, our skin enjoys a healthy amount of collagen. Collagen is a substance that keeps our skin looking young and healthy. Over a period of years, the rays of the sun break down the collagen in our skin, causing wrinkles.
Ten years ago, a 33 year old Cindy Crawford noticed that her skin was starting to show signs of age. She had heard about a skin expert in France, Dr. Jean-Louis Sebagh. Cindy visited Sebagh in his Paris office, and she was amazed by the results of his skin treatment.

Dr. Sebagh had developed a skin cream that could not be bottled because one of the main ingredients was impossible to bottle. But at Cindy's insistence and years of testing, this obstacle was overcome, and Cindy Crawford Meaningful Beauty was born!
Of course, Cindy didn't just keep this virtual fountain of youth for herself. She wanted to share this amazing product with others. Dr. Sebagh was not a mass producer of skin care products, so he and Cindy joined forces with the company Guthy-Renker, who could mass produce Meaningful Beauty products so that everyone could enjoy them. This is how Cindy Crawford meaningful beauty products came to be.
Ten years later Cindy looks like she is still in her early twenties, and Cindy Crawford Meaningful Beauty is now a household name. And not just Cindy, but millions of non famous women who use Meaningful Beauty products are looking decades younger than their chronological age. After using these products, you are going to like the way you look and feel, and so will everyone else.

Meaningful Beauty Cleanser
Cindy Crawford Skin Care line has a great cleanser that is non drying and works wonderful for those with sensitive skin. Use it along with the rest of the line in her skin care for best results. Cindy uses it and swears by the results.
Meaningful Beauty Day Moisturizer
An antioxidant filled moisturizer with an SPF of 20 that protects against sun damage and aging. Some have claimed that this moisturizer really evens out their skin and leaves a great palate to apply their makeup. Use this moisturizer exclusively with the other products in her skin care line , for the best results possible.

Meaningful Beauty Night Fluide
Part of the Cindy Crawford skin care line. The Repair Night Fluide is mean to repair all the damage that has been done during the day. You wake up seeing a brighter less wrinkled face! With an antioxidant complex to help fight free radicals as well as 11 other key ingredients, this makes for a great night cream.

Meaningful Beauty Eye Creme
Our under eye skin is so delicate that it needs extra gentle care. Get rid of puffiness, dark circles, bags with Cindy Crawford eye cream.

Meaningful Beauty Masque
Remove all those unwanted impurities and renew you skin by removing it's dead skin cells. The mask will leave you skin feeling clean and youthful. Cindy Crawford uses this part of her line at least once a week for great results.

Meaningful Beauty Neck Creme
Don't neglect your neck and chest. In fact, most women show their first signs of aging on their neck. This cream will ensure that you are taking care of those areas correctly. It's non irritating, smooth, and will leave your neck and chest more even.

Meaningful Beauty Glowing Serum
I love it when my skin glows and have often wished for a serum that would do just that. Cindy Crawford has come up with a serum that will make your face bight a glowing. Apply under moisturizer and make sure to use before makeup.