Murad Cellulite Treatment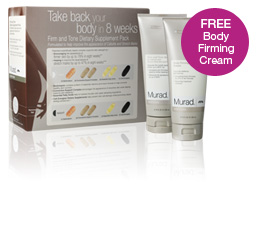 Murad Cellulite Treatment - Again, please always keep in mind when using a cellulite skin care product that creams cannot reduce cellulite, but it can reduce puffiness and dimples in your skin.
There is no magic cream that you can put o your skin that will dissolve cellulite. BUT reduces the appearance is worth a million bucks!
The Murad Cellulite Treatment has an en tire book and cellulite solution set to help with combating the appearance of cellulite. Dr. Howard Murad has been quoted saying,"The hard fatty nodules of cellulite are a system of the deterioration of the skin's delicate vascular system caused by age, stress, environmental toxins, and hormonal changes." Dr. Murad has created this cellulite system to combat the problems of cellulite. It includes topical creams and dietary supplements. The combination of the two gives the body what it needs to repair skin tissues.
The Murad website claims that within 8 weeks: Skin will appear to be firmer by up to 78%, appearance of cellulite will be reduced by 69%, and skin structure will be stronger.
Murad Cellulite Solution Set Includes:
Tone And Firm Serum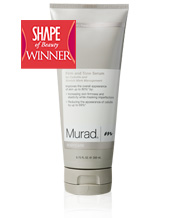 The firm and tone serum gives you a blast of botanicals which will help reduce the appearance of cellulite.
How To Use: Message into clean skin twice a day. Apply to cellulite and stretch mark prone areas.
Retail: $75
Ingredients Water (Aqua), Alcohol Denat., Perfluorononylethyl Carboxydecyl PEG-10 Dimethicone, Glycerin, PPG-2 Isoceteth-20 Acetate, Cyclopentasiloxane, Dimethyl Isosorbide, Ethoxydiglycol, Butylene Glycol, Sodium PCA, Dimethiconol, Punica Granatum Extract, Phospholipids, Tocopheryl Acetate, Retinyl Palmitate, Ascorbyl Palmitate, Uncaria Tomentosa Extract, Lycium Barbarum Fruit Extract, Paullinia Cupana Seed Extract, Cysteic Acid, Mentha Piperita (Peppermint) Extract, Pantetheine Sulfonate, Carnitine, Benzyl Alcohol, Lactic Acid, Caprylic/Capric Triglyceride, Retinol, Lecithin, Caffeine, Atelocollagen, Centella Asiatica Extract, Esculin, Salicylic Acid, Menthol, Capsicum Frutescens Fruit Extract, Pentylene Glycol, Carbomer, Xanthan Gum, Acrylates/C10-30 Alkyl Acrylate Crosspolymer, Maltodextrin, Microcrystalline Cellulose, Aminomethyl Propanol, Benzyl Nicotinate, Sodium Chondroitin Sulfate, Phenoxyethanol, Methylparaben, Propylparaben, Ethylparaben, Butylparaben, Isobutylparaben, Limonene *, Linalool *, Bourgeons de Cassis Absolute, Aniba Rosaeodora (Rosewood) Wood Oil, Ricinus Communis (Castor) Seed Oil, Gamma- Decalactone, Citrus Nobilis (Mandarin Orange) Peel Oil, Bucchu Ketone, Delta-Decalactone, Ethyl Acetate, Nerolideol, Hex-3-enyl Acetate, Citrus Aurantium Dulcis (Orange) Oil, Salvia Sclarea (Clary) Oil * Allergen
Frim And Tone Dietary Supplement Pack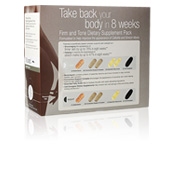 Combat cellulite from the inside out. The dietary supplement pack contains nutrients that hep repair cellulite.
How To Use: Take a "day" pack in the morning and the "night" pack at night.
Retail: $135 for 28 day supply
Ingredients:These statements have not been evaluated by the Food and Drug Administration. This product is not intended to diagnose, treat, cure or prevent any disease. Individual results may vary.
Body Firming Cream
A very rich body cream that restores moisture and increases firmness. Sounds good to me. I know I'm not as moist and firm as I used to be. ha
How To Use: Message into skin. All over for best results.
Retail: $42.50
Ingredients: Water (Aqua), Helianthus Annuus (Hybrid Sunflower) Oil, C12-15 Alkyl Ethylhexanoate, Butylene Glycol, Algae Extract, Di-C12-15 Alkyl Fumarate, Butyrospermum Parkii (Shea Butter), Cetyl Dimethicone, Stearic Acid, Glyceryl Stearate SE, Avena Sativa (Oat) Kernel Extract, Hydrolyzed Soy Flour, Dimethicone, Rice Amino Acids, Chitosan Ascorbate, Lysine Lauroyl Methionate, Zinc Aspartate, Hydrolyzed Wheat Protein, Sodium Ascorbyl Phosphate, Panthenol Tocopheryl Acetate, DEA-Cetyl Phosphate Cetyl Alcohol, Carbomer, Aminomethyl Propanol, Tetrasodium EDTA, Phenoxyethanol, Methylparaben, Propylparaben, Citrus Aurantium Dulcis (Orange) Oil, Citrus Nobilis (Mandarin Orange) Peel Oil, Ocimum Basilicum (Basil) Oil, Citrus Grandis (Grapefruit) Peel Oil, Ferula Galbaniflua (Galbanum) Resin Oil
Video Clip On Murad Cellulite Treatment
What Others Have Said ... Reviews
"Did not help my stretch marks much, but my cellulite is gone."
"My skin feels amazing. My husband keeps commenting on how soft my rear is."
"Not only are my dimples in my skin looking better, but i'm hair and nails are growing due to the vitamins."
"The Murad Cellulite Treatment has reduced my cellulite and stretch marks did diminish by 30%."
Your Opinion On This Product
Do you love this skin product? Or could you have lived without it? Would you buy it again? Inquiring skin care minds want to hear from you!