Mary Kay Satin Hands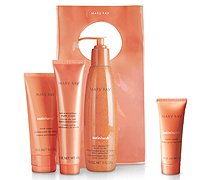 Mary Kay Satin Hands - Believe it or not our face and hands are not the only give away of how old we are.
In fact, our hands show signs of aging maybe even beofre the other two do. We forget to protect and take care of our hands until we see that first age spot appear. I bet some women wish they'd started caring for their hands in their 20's. The good new is ... it's never too late!
The Satin Hands collection is a Mary Kay bestseller. It also won the Self Healthy Beauty award for "best hand scrub." The Satin Hands Pampering Set is a complete line of cleansers, exfoliates and cream that was made just for your hands! In cat, it comes with an emollient night cream, satin hands smoothie hand scrub, and satins hand hand cream with sunscreen in it. All for the retail price of $30.00.
How To Use
Wet your hand with a small amount of water. Water helps lock in the moisture! Apply the emoillient cream and leave it on all night. First thing in the morning scrub your hand with the smoothie hand scrub. Pat your hands dry and apply the satin hands hand cream.
What Other Have Said ... Reviews
"Makes my hands feel fantastic."
"Incredible scent!"
"My hands look and feel younger."
"Works great on my husbands hands."
"Works miracles on dry hands."