Kinerase Hydrating Antioxidant Mist
Kinerase Hydrating Antioxidant Mist - So, you leave your house in the morning looking and feeling good ... maybe even great!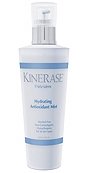 By 3 PM your ready for a really good cup of joe and your skin is not feeling so fresh and made up.
In fact, around mid-day your face can become dull, dry, and tight. You feel like heading to the restroom and starting all over again, but you can't. So what can you do? You can spritz yourself for a mid day refresher.
The Kinerase Hydrating Antioxidant Mist is a multi-purpose spritz for any time of day. You can use it as a toner after you cleanse in the morning or spritz it on mid-day for a refreshed look and feel. Yes, you can spritz it right over your makeup. This hydrating mist contains 3 key ingredients that make it a wonderful product.

White tea is present and helps sooth and fight free radical damage. Hyaluronic acid is another one of the key ingredients. This acid helps bind moisture to the skin. Aloe is also present and has a calming effect on the skin.
Who Can Use It?
Suitable for all skin types especially excellent for those with oily skin. This spritz can be replace day a moisturizer with helps with excess oil.
Ingredients
Water, glycerin, hyaluronic acid, diazolidinyl urea, polysorbate 80, ergothioneine, aloe barbadensis leaf juice, sodium carboxymethyl beta-glucan, camellia sinensis leaf extract, tetrasodium EDTA, allantoin, bergamot fruit oil, citric acid, kinetin, lodopropynyl butylcarbamate.
Retail: $36.00
What Others Have Said ... Reviews
"This is one of my favorite products. I set my makeup with it everyday."
"It has really improved the moisture in my skin."
"I carry this in my purse for an afternoon refresher."
"I don't consider this a toner. I prefer other toner brands much better, but I do use it as a spritz."
"When I spray it doesn't make my face look drenched ... just refreshed."
Your Opinion On This Product
Do you love this skin product? Or could you have lived without it? Would you buy it again? Inquiring skin care minds want to hear from you!