Jan Marini Bioglycolic Acne Gel
Jan Marini Bioglycolic Acne Gel
- Acne, acne, acne.
If there was an acne cure that worked for everyone, that would be incredible.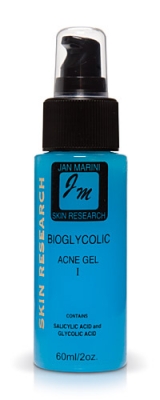 Unfortunatly, getting rid of acne is a trial and error process. What may work for one individual may not work for anotherer. Please don't give up! A clear face could be right around the corner.
The Jan Marini Bioglycolic Acne gel
combines salicylic acid with glycolic acid. Salicylic acid causes the cells of the skin to shed properly. It is a chemical agent that helps in the process of exfoliation. This acid also breaks down blackheads and whiteheads ..... yeah!! Glycolic acid works in the same way. So this bottle of acne gel is double trouble for acne. This combination may irritate your skin for the first 2-3 weeks.
Who Can Use It?
Those with oily and acne prone skin.
How To Use
After cleansing, apply Jan Marini Bioglycolic Acne Gel to entire face avoiding the eye area. It can also be a spot treatment for pimples. Try using it once a day in the beginning.
Ingredients:
Salicylic Acid, SD Alcohol 40B, Deionized Water, Glycolic Acid (Partially Neutralized With Ammonium Hydroxide), Sorbitol, Acrylates Copolymer, Hydroxypropylcellulose, Lavender Essential Oil, Chamomile Essential Oil, Acrylates/Octylacrylamide Copolymer, F D & C Blue #1
Retail: $41.00
What Others Have Said ... Reviews
"My esthetician recommended this product to me. Works very well with Jan Marini Benzoyl Peroxide."
"It will only use this once a day. I love that it is a large bottle and lasts me a while."
"It really gets rid of my acne quickly."
"I love this product as a spot treatment only. It's alcohol based and is too much for my entire face."