Dermalogica Toner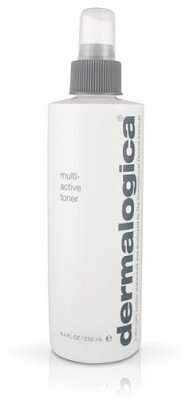 Dermalogica Toner
- Unfortunatly toner can be a step that we often skip.
It could be that we are pressed for time or too sleepy to care! Well, think twice before you skip your toner step. Toner removes the last traces of our cleanser, closes pores, prepares the skin for moisturizer, and brings our skin back the correct PH.
Dermalogica has a fantastic toner that is free of the drying ingredient, alcohol. The Dermalogica Multi Active Toner
is good for all skin types. Even acne prone skin can benefit from it's calming properties.
How To Use
After cleansing, spritz the toner over entire face and neck. This toner can be applied with a cotton pad, but make sure to use upward strokes.
Ingredients
Extracts Of: Lavender (Lavandula Angustifolia), Balm Mint (Melissa Officinalis); Aloe Barbadensis Gel, Butylene Glycol, Sodium Lactale, Sodium PCA, Sorbitol, Proline, Propylene Glycol; Extracts Of: Mallow (Malva Sylvestris), Ivy (Hedera Helix), Cucumber (Cucumis Sativus), Sambucus Nigra, Arnica Montana, Pellitory (Parietaria Officinalis); Ricinoleth-40, Methyl Gluceth-20, Sorbic Acid, Benzophenone, Polysorbate 20, Disosium EDTA, Diazolidinyl Urea, Methylparaben.
What Other Have Said ... Reviews
"The first toner that does not dry out my skin."
"Has an incredible effect on the texture of my skin."
"I love the light texture and the smell."
"It is refreshing and hydrating."