Dermalogica Skin Kit For Men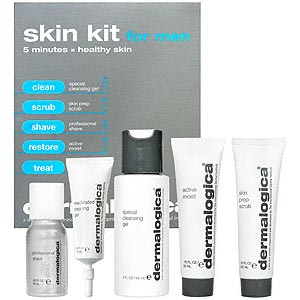 Dermalogica Skin Kit For Men - Men are usually reluctant to use a skin care system.
It is usually seen as a "woman thing." OR they feel that it would be too time consuming with not too many benefits. I should know, I'm married to this man!! Well once I convinced him to give it a try; he was hooked.
The Dermalogica men's system is specifically designed with men in mind. In 5 minutes or less you will have clean, smooth, and well hydrated skin. The kit contains a cleansing gel, skin prep scrub, professional shave cream, n oil free moisturizer, and a medicated acne treatment.
Who Is It Good For?
Suitable for all skin types. Especially great for those who are concerned with aging skin and for individuals who have acne prone skin.
How To Use
Follow the order of the skin care system every time.
Retail: $30.00
What Others Have Said .. Reviews
"It really gave me instant results."
"This really helped with my acne, I will continue to use it."
"It changed how my skin feels."
Your Opinion On This Product
Do you love this skin product? Or could you have lived without it? Would you buy it again? Inquiring skin care minds want to hear from you!