Dermalogica Exfoliant
Dermalogica Exfoliant - You've heard me rant and rave about the incredible benefits of exfoliating weekly.
Dermalogica has a few incredible skin exfoliants depending on your skin type. I already touched on their fantastic Daily Microfoliant.Here are a few other favorites ...
Dermalogica Skin Prep Scrub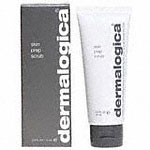 The skin prep scrub
is an all natural skin product. Let corn cob meal polish and scrub away dead skin cells. This is a perfect exfoliant for men to use before shaving. Fantastic Dermalogica exfoliant.
What Skin Type?
Suitable for all skin types.
How To Use:
Apply 3X a week after cleansing. Message in a circular motion and leave on for 10 minutes. Rinse well with warm water and follow with a moisturizer.
Ingredients:
Aloe Barbadensis Gel, Glyceryl Stearate, Disodium Cocoamphodipropionate, Corn(Zea Mays) Cob Meal, Cetyl Alcohol, Stearyl Alcohol, Cocamide DEA, Citric Acid, Polysorbate 20, Polyquaternium-10, Titanium Dioxide, Extracts Of: Mallow(Malva Sylvestris), Ivy(Hedera Helix), Cucumber(Cucumis Sativus), Sambucus Nigra, Arnica Montana, Pellitory(Parietaria Officinalis); Propylene Glycol, Butylene Glycol, Tocopheryl Acetate, Potassium Sorbate, Benzophenone-4, Ascorbyl Palmitate, Methyl Gluceth-20, Tetrasodium EDTA, Phenoxyethanol, Diazolidinyl Urea, Methylchloroisothiazolinone, Methylisothiazolinone, Methylparaben, Propylparaben
What Others Have Said ... Reviews
"If I forget to use it, my skin shows it."
"I use this before I apply my makeup and my makeup is flawless."
"After use, my skin felt dry and tight. I always follow with a moisturizer."
"I mixed this with my cleanser to make it more gentle. I have sensitive skin and this exfoliant is fantastic."
"Is not abrasive at all."
Video On Skin Prep Scrub Vs. Gentle Cream Exfoliant
Dermalogica Gentle Cream Exfoliant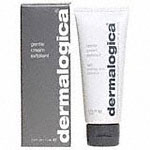 This Exfoliant
is gentle and leaves your skin soft and smooth. It eliminates having to scrub you skin with abrasive particles. It contains lactic acid, salicylic acid, and fruit enzymes. Therefore, this scrub helps promote cell renewal. The ingredients also help treat acne and wrinkles. Perfect for those with adult acne!
What Skin Type?
Suitable for all skin types. Especially those who suffer from acne.
How To Use:
On a clean face, apply to face and neck. Leave on for 10 minutes and rinse with warm water. For best results, use 1 -2 times a week.
Ingredients:
Aloe Barbadensis Gel, Diatomaceous Earth (Sloum Diatomeae), Butylene Glycol, Isodecyl Salicylate, Apricot (Prunus Armeniaca)Kernel Oil, Cetearyl Alcohol,Ceteareth-20,Papain, Bromelain, Glyceryl Stearate, Titanium Dioxide, Salicylic Acid, Algin, Lactic Acid, Sulfur, Sodium Hydroxymethyglycinate, Lavender (Lavandula Anjustifolia)Oil, Extracts Of: Cornflower (Centaurea Cyanus), Lemon (Citrus Medica Limonum), Orange (Citrus Aurantium Dulcis), Orange 9Citrus Aurantium Dulcis) Flower, Matricaria (Chamomilla Recututa); Silica, Tetrasodium EDTA, Methylparaben.
What Others Have Said ... Reviews
"I use this product twice a week and it leaves my skin feeling so soft and smooth."
"I definitely have less whiteheads after using this product."
"It made me break out at first. But I believe this is the way your skin purges all that yuck. Now my skin is incredible."
"Smells gross but works great!"
"I really prefer the Dermalogica Microfoliant over this."
Retail: $32.50
Dermalogica Multivitamin Thermafoliant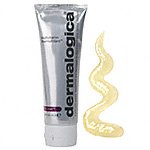 The Thermafoliant
is part of the Dermalogica AGE Smart Line. This particular dermalogica exfoliant is a skin polisher that exfoliates to help with skin texture and encourages age-fighting vitamins to seep into the skin. It is chalked full of an age-fighting cocktail of ingredients.

It contains retinol and prickly pear extract which helps with clarity and skin smoothness. It also has white tea in it which helps protects our collages. It also contains licorice, vitamin A, vitamin C, and Vitamin E. All of those vitamins gives you antioxidant protection.
What Skin Type?
This Dermalogica exfoliant is suitable for all skin types, especially those that are concerned with aging.
How To Use:
Apply this Dermalogica exfoliant
to damp skin, and message in circular motion for 2 minutes. Rinse with cool water.
Ingredients:
PEG-6, Sodium Bicarbonate, Magnesium Oxide, C20-40 Pareth-10, Silica, Salicylic Acid, Retinol, Lactic Acid, Tetrahexyldecyl Ascorbate, Hydrolyzed Opuntia Ficus Flower Extract, Tocopherol, Citric Acid, Camellia Sinensis Leaf Extract, Glycine Soja (Soybean) Seed Oil, Glycyrrhiza Glabra (Licorice) Root Extract, Bixa Orellana Seed Oil, Carthamus Tincorius (Safflower) Seed Oil, Citrus Medica Limonum (Lemom) Peel Extract, Olive Oil PEG-7 Esters, Caprylic/Capric Triglyceride, Citronellol, Eugenol, Geraniol, Linalool, Limonene, Helianthus Annuus (Sunflower) Seed Oil, Rosa Damascena Flower Oil, Eugenia Caryophyllus (Clove) Leaf Oil, Pelargonium Graveolens Oil, Citrus Medica (Lemon) Peel Oil, Aniba Rosaeodora (Rosewood) Wood Oil.
What Others Have Said ... Reviews
"The best Dermalogica exfoliant I've ever used."
"Makes my skin feel polished and it really does glow."
"I have ultra sensitive skin and the scrub was a little rough for my skin."
"It got rid of my whiteheads as well as clogged pores."
Video Review Of Dermalogica Multivitamin Thermafoliant
Dermalogica Daily Clean Scrub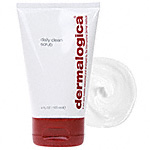 This Dermalogica exfoliant
is perfect for men. My husband is always looking for a way to get a close shave and this seems to have been the answer. It contains salicylic acid, willow bark extract, and silica. These ingredients help remove oil, dead skin cells, and lifts hair up and away from the skin. If you are tired of ingrown hairs, then this product is perfect for you.
What Skin Types?
Suitable for all skin types.
How To Use:
Apply prior to shaving. Apply to a damp face and neck. Scrub in a circular motion and rinse with warm water.
Ingredients:
Water (Aqua), Sodium Laureth Sulfate, Glyceryl Stearate, Silica, Cetyl Alcohol, Cocamidopropyl Betaine, Glycerin, Polysorbate 20, Disodium Lauryl Sulfosuccinate, Saccharomyces Cerevisiae Extract, Magnesium Aluminum Silicate, Tocopheryl Acetate, Hydrolyzed Jojoba Esters, Cocamidopropyl PG-Dimonium Chloride Phosphate, Betula Alba Juice, Salix Nigra (Willow) Bark Extract, Triticum Vulgare (Wheat) Germ Extract, Xanthan Gum, Sodium Hyaluronate, Butylene Glycol, Tetrasodium EDTA, Benzyl PCA, Phenoxyethanol, Titanium Dioxide, Limonene, Melaleuca Alternifolia (Tea Tree) Leaf Oil, Citrus Paradisi (Grapefruit) Oil.
What Others Have Said ... Reviews
"I use this scrub, even though it says it is for men. I love the smaller grain size."
"My husband loves this product and uses it daily in the shower."
"Really got rid of my ingrown hair problem."