Cellex C Skin Perfecting Pen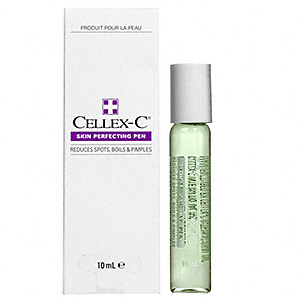 Cellex C Skin Perfecting Pen
- Every now and again the environment or our own bodies,hormones, can cause us to occasionally break out.
When this occurs, it's usually not a small pimple that you have to deal with. Instead, our face usually responds with a pretty large and painful blemish. So what can help?
Cellex C has come out with a "healing pen."
It's a convenient, soothing treatment for blemishes, boils, and even insect bites. Roll it on the problem area and watch while it dries up all while leaving the remainder of your face alone. No need to worry about drying up your entire face for a few blemishes.

The ingredients include olive leaf extract, lavender, peppermint, rosemary, and zinc. All of these herbs promote healing. It also calms and soothes on contact.
Who Can Use It?
Suitable for all skin types. Do not use on children.
How To Use:
Apply Skin Perfecting Pen directly to blemish or insect bite. Do not use on children.
Retail:$27.00
What Others Have Said ... Reviews

"Dries up blemishes not my skin."

"Took about one week to clear up my boil, I will use it every time."

"Smells great and really does sooth when I put it on."
Your Opinion On This Product
Do you love this skin product? Or could you have lived without it? Would you buy it again? Inquiring skin care minds want to hear from you!