Cellex C Fade Away Gel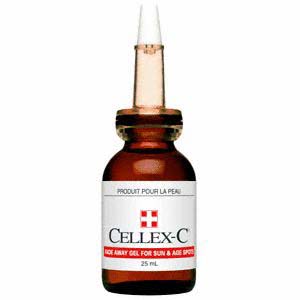 Cellex C Fade Away Gel
- As we age, our skin develops dark pigmentations called age spots.
Unfortunatly, they develop as a result of sun damage. I know, tan skin is beautiful, and there is nothing like laying out by the pool.I suppose we can't indulge and not pay for it somehow! :) Oh, and to top it off, us fair skinned ladies are more prone to age spots. We tend to freckle and burn a lot more easily than those that are blessed with olive dark beautiful skin.
Cellex C Fade Away Gel
lightens the appearance of age spots using natural chemicals. It's an oil-free solution that contains Vitamin C, Green tea, and hyaluronic acid. So the fade away gel protects the skin, nourishes it, and binds moisture to it.
Who Can Use It?
Those with sun/age spots, and acne scars. Suitable for most skin types including; oily, normal, and dry.
How To Use It
Apply a small amount of Fade Away Gel to the age spot. Make sure your skin is nice and dry.
Ingredients
Glucosamine HCL, Ascorbic Acid, Acetyl Tyrosine, Zinc Sulfate, Green Tea Extract, Sodium Hyluronate, Cucumber Extract, Thyme Extract, Phenoxyethanol, Quaternium-15, Green 5, Cl 61570, Cl 19140.
Retail: $57.00
What Others Have Said ... Reviews
"Worked fabulous on my dark acne scars."
"It took about a month for my scars to lighten and for my skin tone to even out."
"It was not as good as expected, did not seem to lighten my dark spots."
"My acne spots are almost all gone."
"It is invisible and absorbs real well."
Your Opinion On This Product
Do you love this skin product? Or could you have lived without it? Would you buy it again? Inquiring skin care minds want to hear from you!