Cellex C Body Smoothing Lotion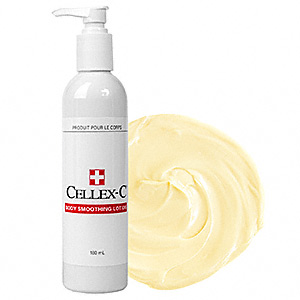 Cellex C Body Smoothing Lotion - Let me be straight with you, there is no magic cream that you can put on your skin that will dissolve cellulite.
Using a cellulite skin care product cannot reduce cellulite, but it can reduce puffiness and dimples in the skin. Thus giving your skin a much smoother appearance.
Cellex C has come out with a body smoothing lotion that does reduce the appearance of cellulite. It even claims to improve the color of your skin, and help with age spots! I know I long for my "high school legs." They were smooth and all one color!! Use the smoothing lotion consistently for 5-8 weeks and you will begin to see the difference.
Who Can Use It?
All skin types except those with extra sensitive skin.
How To Use:
Apply to body. Wash hands after use. Do not use on face, and don't get on clothes.
Ingredients:
Water (Aqua), L-Ascorbic Acid, Caprylic/Capric Triglyceride, Cetearyl Alcohol, Ceteareth-20, Propylene Glycol Dipelargonate, Tocopheryl Acetate, Tomato Extract (Solanum Lycpersicum), Evening Primrose Oil (Oenothera Biennis), L-Tyrosine, Zinc Sulfate, Glycerin, Cetyl Alcohol, Phenoxyethanol, Dimethicone, Hyaluronic Acid, Aloe Vera Extract (Aloe Barbadensis), Chamomile Extract (Anthemis Nobilis), Allantoin, Bioflavonoids, Methylparaben, Disodium EDTA, Xanthan Gum, Propylparaben, Fragrance (Parfum).
Retail: $149.00
What Others Have Said ... Review
"It has greatly helped my thighs."
"Reduced the dimpling and evened out the appearance of my skin."
"I personally did not like the smell of this product."
"Moisturized my very dry legs and smoothed out the dimples."
Your Opinion On This Product
Do you love this skin product? Or could you have lived without it? Would you buy it again? Inquiring skin care minds want to hear from you!