Arbonne Nutrimin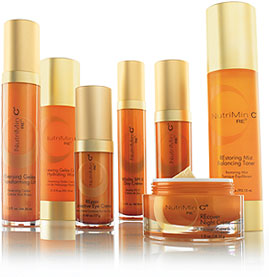 Arbonne NutriminC RE9
There is a battle raging in your body right now, and it's been going on since the moment you were born. It's a battle against time.
While the sun is a necessary ingredient for life on this planet, it is also the main cause of damage to the skin. While one cannot avoid the rays of the sun, you can protect your skin against it's damaging rays, and in some cases you can even reverse the damage that has been done with Arbonne's Revolutionary anti aging product line.

When you use NutriminC RE9 products it's like you are simply washing wrinkles away! This skin care product is so amazing that you won't believe the results with your own eyes. It is a 7 step skin care system.
NutriminC RE9 Renewing Creme - foams up easily and washes off easily. With some cremes you have a feeling of stickiness and heaviness, but with this creme your skin will feel naturally soft.
The NutriminC RE9 Restoring Mist Balancing Toner - is a PH balanced toner that will leave your skin feeling naturally moist and soft.
As I have mentioned before, your body needs a certain amount of the sun's rays. NutriminC RE9 Day Creme - has a Sun Protection Factor of 8 while most other cremes have a SPF of 15 or higher. This gives you some protection while allowing your body to get the rays that it needs.
Reactivating Facial Serum - When you apply the Reactivating Facial Serum to your face you will immediately feel the healthy skin cells in your face spring to life. This serum will allow the skin on your face to retain moisture, and it will reduce the appearance of fine lines.
Recover Night Cream - will keep your face moisturized while you sleep, and it is so light it will allow you to sleep peacefully I swear by this stuff. My face is smooth when I wake up!
Repair Corrective Eye Creme - There is no where on the face that aging is more evident than around the eyes. Dark circles and puffiness are things that increase with the passage of time. The Repair Corrective Eye Creme will restore the youthful, natural look of your eye sockets. It contains kojic acid, which is what lightens the dark circles, as well as exfoliants and antioxidants.
Arbonne NutriminC RE9 products will leave your skin feeling moisturized, healthy, and younger looking. You are going to love the way it feels, and you are going to love the way it looks. 79% of people said they would buy it again.
More Ant iaging Resources ...
Forever LookingYounger Anti aging made easy by making simple changes to your life, lose body fat, beat wrinkles and feel great!
Your Opinion On This Product
Do you love this skin product? Or could you have lived without it? Would you buy it again? Inquiring skin care minds want to hear from you!
More Reviews
Click below to see contributions from other visitors to this page...

Nutrimin C Not rated yet
When I run out of this product, I can tell a huge different in my skin. The entire line is worth the money and lasts me from 4-6 months. All this is missing …