ABC Arbonne Baby Care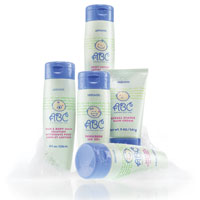 Arbonne Baby Care
Babies and toddlers have extra sensitive skin, and certain detergents can cause it to break out in a rash.
The ABC Arbonne Baby Care products do not use chemical fragrances that can cause these rashes. I remember when I was a new parent. Whenever our son broke out in a rash, mom and dad had to play detective to find out what was causing the rash. A change of laundry soap, shampoo, baby wash, baby wipes, and carpet shampoo were all suspect.

When you use the Arbonne line, you are reducing the amount of skin rashes your child will get, and you are also reducing the number of products that are suspect. This is important because I remember times that my husband and I just wanted to pull our hair out trying to find out what it was that our child was having an allergic reaction to.
The hair and body wash- is tear free, and it cleans and protects your baby's skin. It will replenish the body's natural oils as it cleans and moisturizes.
The Arbonne body lotion, which is composed of oat, safflower oil, and Shea butter, will help soothe irritation to your baby's skin. Because it is composed of all natural products, it shouldn't cause your babies skin to break out. It will moisturize your babies skin while at the same time protect it from rashes. It is recommended for babies and those with extremely sensitive skin.
Herbal Diaper Rash Cream - Is made from zinc oxide, avocado and peach, Arbonne's Herbal Diaper Rash Cream not only soothes diaper rash, it keeps it from occurring by keeping excess moisture out of the treated area. It works wonderfully!
Sunscreen SPF 30+ -Also made with oat, aloe, and Shea butter is Arbonne's sunscreen. With a sun protection factor of 30+ it will keep dangerous ultra violet rays from harming your baby's skin. It is water resistant, so a run through the sprinkler is okay. It is recommended for babies, children, and people with sensitive skin.
Baby OilSafflower, sunflower, jojoba, soybean and Shea butter are the ingredients for the baby oil, and this natural formula will moisturize your baby's skin and reduce irritation at the same time. My mom even uses this for herself. She has dry skin on her legs and swears by the Arbonne baby oil!
Whatever lotions and body wash you decide to use, take special care when choosing. Don't use a product that contains dyes, artificial fragrances and harsh chemicals. Only choose products that have all natural ingredients and you will be glad that you did.
Your Opinion On This Product
Do you love this skin product? Or could you have lived without it? Would you buy it again? Inquiring skin care minds want to hear from you!